I don't wear a lot of dresses. I like the freedom of pants - wearing a skirt or a dress means I have to concentrate a lot harder on being lady-like. However, I am drawn to pretty dresses and I'd really like to incorporate them into my wardrobe - and be more comfortable wearing them.
I thought this Burda dress (from the April 2014 magazine, pattern 120) was particularly pretty. I love the pleating details and little button loop front closure. It's not a dress style I would normally choose, but I hoped it would end up looking as flattering on me as it did on the model, even though I am not tall and thin but actually really short and sturdy.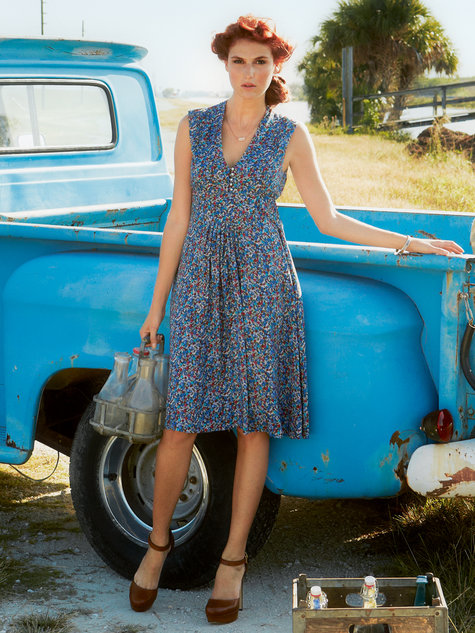 That being said, my initial impression after finishing and trying it on was that it looked like a maternity dress. I'm not used to having all this flowing, floaty fabric, so I was considering wadding it up and throwing it my "learning experience" trash can.
I decided, though, to have my husband take a couple of photos of me in the dress so I could get a better perspective on how it looked. I think I like it.
Anyhow, I'm so glad to be done with this project. I'm sure I'll wear this at least a few time this summer (and mom, I've got a slip on underneath :)).
Pattern / Sewing Details:
Intermediate level sewing. Button loops, pleats, lined bodice, princess and curved seams, elasticized waist - some of these details are quite tedious
The pattern is drafted beautifully - everything lines up - even with all the alterations I made to take from a "Tall" to a "Petite" size
I know generally people get frustrated with Burda instructions but I found them to be more than adequate with no really confusing directions.
Interface the tie bands unless you want them to twist and wrinkle and look cheap and home made.
I've got a couple of gorgeous blouses up next from this so-stylish pattern from Hotpatterns and the fabric is this amazing Roberto Cavelli silk-like cotton print that my mom brought me back from Cyprus.
Make something beautiful!
Jen