I went through a "sewing phase" a few years ago where I was obsessed with the idea of making my own lingerie. I made several camisoles, 2 almost completed underwire bras, and a very comfortable sports bra that I used as a nursing bra.
There seems to be a resurgence of interest in sewing lingerie and there are amazing classes on Craftsy by experts in the field, so I've developed interest once again. I pulled those two almost finished bras out of my to-do box and plan on finishing those up in a week or two. I also discovered that I had cut out, all ready to go - my favorite sports/nursing bra - so I sewed that up today.
I don't nurse anymore but it's still an amazingly comfortable bra - great for lounging and enough support for a yoga class.
The pattern is by Jan Bones of Lingerie Secrets. I met her and took a class from her a few years ago at the American Sewing Expo in Novi, Michigan. She's incredibly gifted and a great teacher. She makes sewing knits and elastic applications understandable and easy. Here's a link to her website:
Sewing Lingerie
I used a cheap cotton lycra fabric from my stash and elastics from
Sew Sassy
- my go to source for lingerie sewing supplies.
Here's quick how-to on sewing the elastic edges:
On the top edges I used this technique:
Line elastic up with the edge of the wrong side of the fabric.
My regular sewing foot has two red markings that are exactly 4.0 mm apart and mark the exact width of my zig-zag stitch. I sew on on the very edge of the left side of the elastic, using the red marks as my guide
Here are my stitch settings:
After attaching the elastic on the wrong side it should look like this
Then fold it down and stitch on the folded edge - same zig-zag stitch





When you flip it over you'll have a lovely finished edge. I used black thread so it could easily be seen for the illustration, but I prefer to use thread the same color as my fabric.

I'll show the fold-over elastic application in my next post. I'm making another bra from a new pattern I just bought from
Ohhh Lulu
It uses fold over elastic to bind all the edges.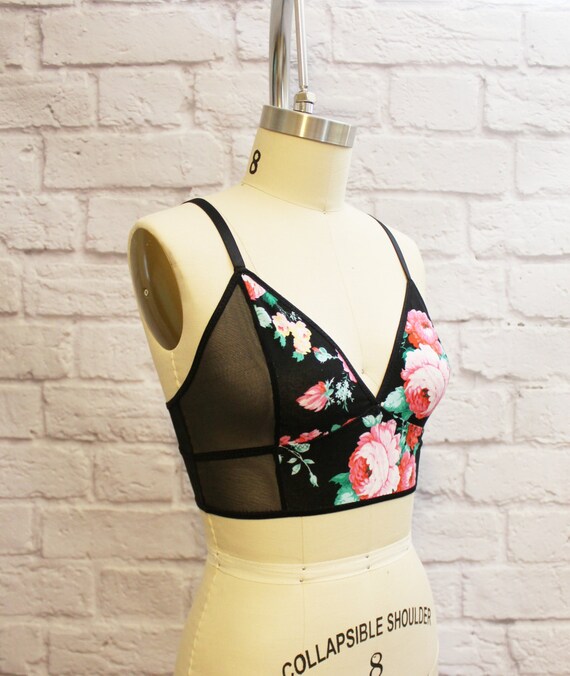 Be comfy and make something beautiful!
Jen